Add a Synch Connection to Any Hot Shoe Flash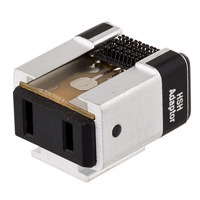 Here's a nice find, from the Flickr Strobist
discussion
threads: A
Wein "HSH Adapter"
which will convert any hot shoe flash to a "household" synch.
This is cool for several reasons.
First, you do not have to buy a new flash if you are already equipped with a decent, variable-manual model that does not have a PC jack on it.
Second, it provides you with a standardized, professional synch - the common (US) household plug. Which means you can take care of your
synch cord needs
with
only one
small PC-to-HH cord and a cheap trip down Home Depot's household electrical aisle.
(You might want to pick up the actual PC cord at the same time as the adapter, to save on shipping.)
Because these remove the need for a PC cord at each flash, you could run
two or three flashes
, hardwired, from one camera with just one small PC adapter cord and about $20 worth of cheap, eletrical hardware.
Here's a pic of the back, courtesy

Rob_from_CA

on Flickr. He has a post mounted on his (I do not think that is included) but it also shows that the Wein unit gives you a 1/4 x 20 mounting thread on the bottom of the converter, too.

Not a bad package for $29.95.

Check the comments section for everal readers who have already posted their experiences with the HSH adapters.

__________

New to Strobist? Start here | Or jump right to Lighting 101
Connect w/Strobist readers via: Words | Photos
Got a question? Hit me on Twitter: @Strobist
Save Money: Browse MPEX Weekly Strobist Deals

<! one br then footer goes here for universal footer >

<! -- begin whatever is between posts > <! -- End whatever is between posts >